Professional Programmes
Overview
Embark on a delegation with peers that will delve into your professional field, propel your experience into the international realm and expand your international networks, all whilst exploring the magnificence of Southern Africa.  Whether you are a doctor, a lawyer, a teacher or an entrepreneur; a civil engineer, an architect, an HR specialist or anything in between – expand your knowledge and challenge your paradigms during Professional Programme experience.
Itineraries are designed according to your outcomes criteria.  You get networked across sectors in Southern Africa – from public and private sectors to non-profits and grassroots activity; from urban to rural; from academic institutions to entrepreneurship hubs.  There is down-time for debriefs and connection.  There is space for leisure and cultural activities, safaris and experiences of iconic South African sites.
Parallel programs for spouses or family are included and extensions to neighbouring states are encouraged: the Okavango Delta in Botswana, the Victoria Falls in Zambia/Zimbabwe, the red dunes of the Namib Desert in Namibia…
With benefits such as the opportunity to spend time with other learned peers delving into how another nation deals with your profession's complexities, there is no better way to learn and "work and travel".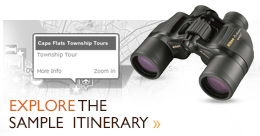 CLIENT FEEDBACK
"Your passion and knowledge captured our hearts and made us so much more sensitive to so many issues in your new democracy. My compliments to your organization for the excellent arrangements in every aspect of our stay."
Kathleen Sussman