Passions & Pastimes
Overview
Take in the sounds and sights of Southern Africa with a twist towards your hobbies, interests and fascinations. Combine your passions and curiosity with an exotic holiday in our afro-cosmopolitan society and vast African wilderness. Share it with friends and family or join a group of like minded fellow explorers, either way you will be blown away by your experiences.
If we can fill an itinerary with highly specialized experts and detailed experiences for niches like Lighthouse Societies, Philatelists and People in Peace Studies, imagine where can go with the classics of Ornithology, Photography, Conservation, Food & Wine, Garden Tours, Art, History & Culture, and the 4 A's – Anthropology/Archaeology, Astronomy and Adventure Travel?
Some Examples:
Food and Fabulous Wine
From fine dining of Michelin acclaim to home-grown township cooking, from organic farmers markets, and cheese factories to historic and world renowned wine farms nestled in the heart of magnificent mountain ranges and Braai'ing (BBQing) in the bush on Safari, participation in this programme literally is soul-food. You will participate in a broad variety of culinary experiences both hands on and experiential.
Battlefields and Bushveld Carbineers
Guided by experts who intimately know the history of the battlefield regions of South Africa, participants on this tour will be taken behind the scenes, meeting descendants of the historical conflicts experienced in South Africa. Whether it be the Second Anglo-Boer war with its strong Australian involvement or the Zulu Wars and the battle of Islandlwana, this programme will enthrall young and old and take the participant to sites of majestic beauty.
Culturally Speaking
South Africa is a land of contrasts and is home to a melting pot of varied cultures that have all significantly shaped the nation's identity. Malay's were migrated during the slave trades, Indians have long ago settled here, more than 9 African tribes call this country home. European settlement happened in 1652 and with the clashes between the Dutch and the English, not even the white culture of South Africa is homogenous. Exploring South Africa from a cultural perspective leaves the visitor with a very grounded and rich understanding of the country and how it has developed into the multicultural rainbow nation of today.
Active Adventure
South Africa is a playground of adventurous activities waiting to be explored. Why delay your planning till you are in-country, when you can plan ahead, building anticipation of all the fun to come. From the weird and wonderful like ostrich-riding and great white shark or crocodile cage diving to abseiling the face of one of the world's seven natural wonders (Table Mountain!) or even Bunge'ing the world's highest drop. You can participate in multi-day hikes through pristine mountains and valley scapes, or bush-walk in the wild with animals unsuspecting around the bends in the path. Water-lovers surf the famous J-Bay break, kayak in the magnificent Garden Route, wake-board, kite-surf, water-ski…. The only questions are: Where do you start, and how do you finish?
Fun for the Family
Africa is a magical place, enthralling and mystical, especially for the young… which in turn makes it wondrous for the young at heart accompanying them! This could be the most rewarding, bonding family holiday ever. Other than spotting the wise elephants, kings of the jungle and all their kingdom in the wild, participate as families in learning the traditional zulu art of beading, caring for orphaned penguins at a sanctuary, riding elephants or ostriches (!), going on an archeological dig at the cradle of humankind, walking with cheetahs in their natural environment, mountainbiking, bungi jumping, shark cage diving and so much more.
Twittering and Tweeting
Get back to nature and participate in authentic twitter experiences on an ornithological extravaganza. Most likely in places where the modern day Twitter will not find reception, you will enthrall yourselves by witnessing the splendours of our feathered friends whilst enjoying time spent in the African bushlands, surrounded by none other than the Big 5 just to make your birding experiences that much more exciting.
Shutterbugs
Combine the pleasure of holidaying with your passion for photography in a land that cries out to be photographed. Rich rewarding African sunsets, animals in silhouette, offshore sprays of ocean waves crashing on pristine beaches, wild African animals in their natural environments, hawks in flight. Diverse traditional cultures displayed in dress and architecture, vineyards, valleys, mountains, rivers and ravines. So much to experience, witness and capture. Our photographic safaris are spent in the company of like minded travellers, and accompanied by some of South Africa's well renowned photographers who will be on hand to share their knowledge and experiences ensuring that you leave your holiday enriched with experience and skill.
Motorbiking Meanders
South Africa is a land of unsurpassed natural beauty and quiet, cambered, roads full of twists and turns and surprisingly quaint towns around the bend makes for a motorbike exploration of heady proportions. There are routes confined to small areas or you can journey across the country – its only a matter of time to spend. Riding on new and well maintained bikes with plenty of pannier storage you are free to journey as you will but the recommended routes will not disappoint as they take you through the winelands, the coastlands and inland mountain passes.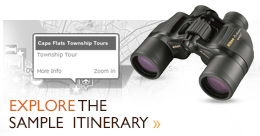 CLIENT FEEDBACK
"From beginning to end our trip was top-notch…it was a phenomenal trip; I thank you for what Spirit of Africa allow travelers like me and my mother to do."
Renee Kuo, U.K.
"We had a wonderful holiday and consider it one of the best we've had overseas. Thank you for organising all the activities – everything ran very smoothly. The tours you organised in Cape Town were very good & the guides very knowledgeable – we have learned a lot."
Peter and Gabrielle Wandle, Australia